Fountaingate Christian Foundation presents...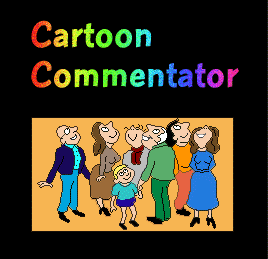 Cartoon Commentator is a section of Churchlink designed to bring a message through cartoons and illustrations.
New illustrated Gospel messages
More to come soon!

Cartoon commentator is open for submissions directly from the Net. If you have a cartoon or illustration which you believe is humorous and has a powerful message, then you can submit to [email protected] by attaching the image to your email. Alternatively, you may write to:
Cartoon Commentator
P.O. Box 1033
Newcastle 2300
Australia
All submissions will be placed on the Net with a "copyleft" agreement - allowing anyone to download and use freely, except for profit. As with all Churchlink materials, however, we encourage users to donate directly to the artist, if the material is felt to be a blessing in any way.

Keep your eyes on this site - a place to bookmark!

Please note: This site is a moderated forum and not all submissions may be accepted.
---
[CHURCHLINK] [WORLDSCOPE] [FEEDBACK] [GUESTBOOK] [POST OFFICE] [SEARCH]