[CHURCHLINK] [WORLDSCOPE] [FEEDBACK] [POST OFFICE] [THE JESUS FILES] [BOOK EXPRESS] [RANDOM] [SEARCH]
Fountaingate Christian Foundation
Fountaingate Christian Foundation is a non-profit organisation which specialises in the training of Christian leadership and the development of teaching materials, particularly for Asia and Africa. Fountaingate is just beginning to develop links into Eastern Europe and South America.

The Christian Church is growing at an staggering rate around the world. In no other generation has there been more people making a first-time commitment to the Lord Jesus Christ. An estimated 80,000 people are giving their lives to Jesus every single day. But this kind of explosive growth is stretching the Church's established training structures. In Africa alone, there are approximately 120 churches per pastor. It is this leadership training crisis that Fountaingate Christian Foundation addresses with foundational training series, Bible studies and leadership manuals.
Leaders of the Fountaingate Team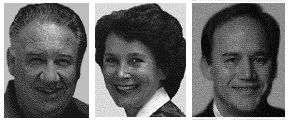 Paul Collins, Bunty Collins and David Collins.
If you would like to know more about Fountaingate and its ministry, please drop us a line at [email protected]. Or you can write to:

Fountaingate Christian Foundation
P.O. Box 1033
Newcastle NSW 2300
Australia

We'll let you know of all the latest developments in a vision that we are all a part of - a vision that began almost 2,000 years ago in the commissioning of the Church and that is reaching its grand climax in our day.
---
[CHURCHLINK] [WORLDSCOPE] [FEEDBACK] [POST OFFICE] [THE JESUS FILES] [BOOK EXPRESS] [RANDOM] [SEARCH]