[UP] [HOME] [WORLDSCOPE] [FEEDBACK] [POST OFFICE] [THE JESUS FILES] [GUESTBOOK] [SEARCH]
Book Review:

Back to the Gospel - Back Cover

The Gospel.
The whole Gospel.
And nothing but the Gospel.
The Church was born in the purity of the Gospel. The Gospel was the secret to her power and growth. Yet within a few decades, the apostles were writing letters to the young churches, correcting imbalances and errors, bringing the Church back to the pure course of the Gospel.
The young Church had begun to absorb the philosophies and methods of the world around her. The Gospel had been watered down with human wisdom and religious tradition. Nineteen centuries later, the challenge of the New Testament epistles remains the same. We must get back to the purity of the Gospel. Back to the power of the Gospel.
Back to the whole Gospel...
Over the last 35 years, Paul Collins, Bunty Collins and David Collins have held more than 200 leadership training courses, teaching seminars and short-term schools throughout the Asia-Pacific region. Their study materials have been supplied to over 100,000 pastors and leaders in Asia, Africa and the West.
In the past 10 years, they have developed a teaching multiplication ministry called "Project 21" - a series of foundational lessons for young churches. This ministry also targets the training of Christian leadership in areas where the Church is growing more rapidly than her ability to supply leaders.
This manual has been written to address what may be the most crucial issue facing the Church today - the very nature of the message we live and preach. God is calling His Church back to the purity of His Gospel. This pure Gospel produces changed lives, vibrant churches and a multiplication effect that will turn our world upside-down.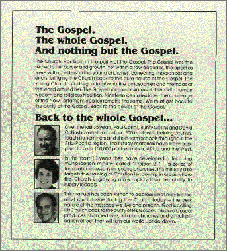 The price per book is as follows:
For Australia - A$15.00 plus A$7.00 postage and handling
For US and other countries - US$10.00 plus postage and handling
You can order your copy of "Back to the Gospel" by money order or credit card. Bulk orders (or orders with two or more titles together) will decrease the postage and handling component. If you would like to inquire about bulk orders, please email us at [email protected].

[UP] [HOME] [WORLDSCOPE] [FEEDBACK] [POST OFFICE] [THE JESUS FILES] [GUESTBOOK] [SEARCH]